D.A.R.E.
History & Overview of the DARE Program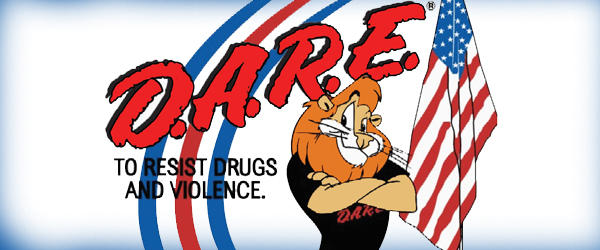 D.A.R.E. stands for Drug Abuse Resistance Education. It is a drug abuse prevention education program designed to equip elementary, middle and high school children with knowledge about drug abuse, the consequences of abuse, and skills for resisting peer pressure to experiment with drugs, alcohol and tobacco.
D.A.R.E. was founded in 1983 in Los Angeles and has proven so successful that it is now being implemented in 75 percent of our nation's school districts and in more than 43 countries around the world, creating a positive atmosphere for students to interact with uniformed law enforcement officers specially trained to teach this curriculum.
D.A.R.E. provides life-skills
D.A.R.E. lesson plans focus on four major areas:
Providing accurate information about drugs, alcohol and tobacco.

Teaching students good decision-making skills.

Showing students how to recognize and resist peer pressure.

Giving students ideas for positive alternatives to drug use.
D.A.R.E officers work with children to raise their self-esteem, teach them how to make decisions on their own, and help them identify positive alternatives to drugs. Through role-playing, the D.A.R.E., curriculum emphasizes the negative consequences of drug use, and reinforces the skills to resist peer pressure and intimidation.
Key Program Elements
D.A.R.E. is a cooperative effort by the police, schools, parents, and the community - all four working together to help our children make the right choices concerning drug use. One of the unique features of D.A.R.E. is the use of uniformed police officers as instructors. D.A.R.E. officers are assigned to a classroom "beat."
The D.A.R.E. curriculum is designed to be taught by police officers whose training and experience gave them the background needed to answer the sophisticated questions often posed by young students about drugs and crime. Prior to entering the D.A.R.E. program, officers undergo 80 hours of special training in areas such as child development, classroom management, teaching techniques, and communication skills. 40 hours of additional training are provided to D.A.R.E. instructors to prepare them to teach the high school curriculum.
D.A.R.E. is reinventing itself as part of a major national research study that promises to help teachers and administrators cope with the thorny issues of school violence, budget cuts, and terrorism.
What D.A.R.E. is NOT
Scare tactics - D.A.R.E. relies on accurate information and a straight-forward approach.
A "Witch Hunt" - D.A.R.E. Officers NEVER encourage students to "turn in" family or friends who may be breaking the law. D.A.R.E. students are taught to say "someone I know..." when sharing stories; never using real names.